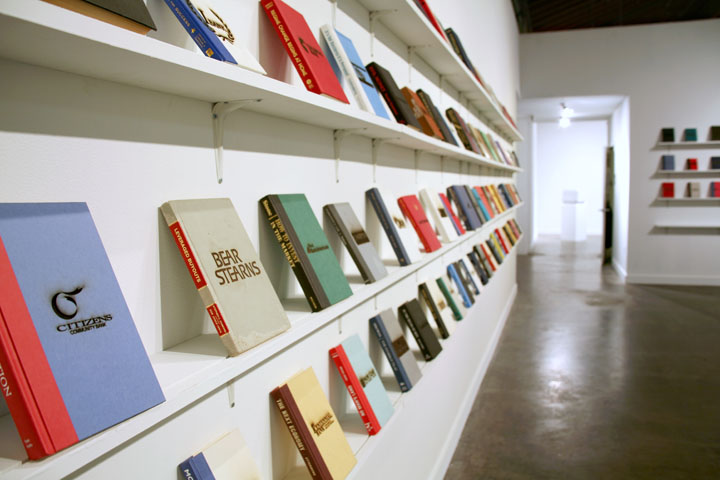 FDIC Insured
by Michael Mandiberg

at Art-in-Buildings Financial District Project Space
40 Rector Street, Suite 1500, New York
September 15th to December 15th, 2016
opening September 15th, 6-8PM
FDIC Insured is an archive of the logos of the failed US banks from this most recent financial crisis. Starting in 2008, I methodically downloaded the logos of the many banks that failed during the Great Recession, and were taken over by the United States Federal Deposit Insurance Corporation (FDIC). During this process, these corporate visual identities were erased from the web. Except that every Saturday morning I downloaded the logos, preserving an otherwise lost history. I collected 527 bank logos as low resolution images, which I have carefully recreated as vector files.
From September 15 - December 15, 2015 I will exhibit this project in a site specific installation just off Wall St. Using a laser cutter, I will burn each of the logos into the cover of a cast off investment guidebook. Visitors will enter through the building's quintessentially corporate lobby, take an elevator to the 15th floor, and enter a recently vacated office suite, where they will encounter the installation and the ghosts of hundreds of failed banks. The show will be accompanied by this archive, and the corresponding book.
Michael Mandiberg is an interdisciplinary artist, scholar, and educator living in Brooklyn, New York. You can find out more about him at at Mandiberg.com
Produced with support from Eyebeam, Feldman Gallery at the Pacific Northwest College of Art, City University of New York, Art In Buildings, Link Art Center, Abandon Normal Devices, and Denny Gallery.